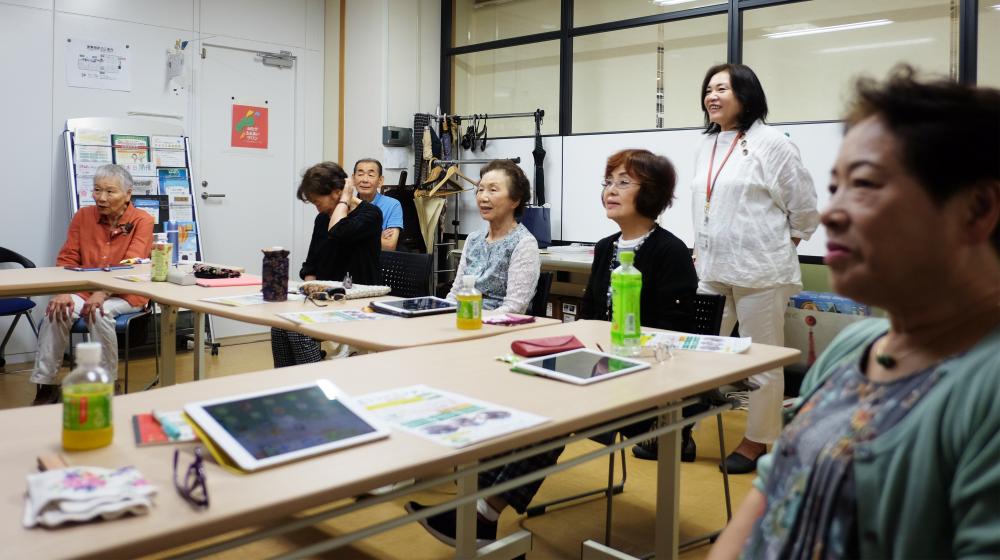 The recent UK Lloyds Consumer Digital Index states that lack of motivation is overwhelmingly the reason given by older people across the UK for not using the Internet.
This can be a conundrum; how do you become motivated if you're not aware of what's possible? And particularly with regards to the Internet if you're not a digital native, i.e. you've navigated your life to date without it. Participants from Advice NI's Supporting Active Engagement project gave many different reasons for being motivated to committing to classes with one older man citing; 'I heard everyone else talking about asking Google and I wanted to learn how to ask Google too.'
In Japan, a particular motivation for learning digital skills was 'Brain Training' classes. I attended a class run by the Mitaka Senior SOHO Saloon in Tokyo.  The instructor started the class with physical exercises by showing different times on a screen at the front of the room. Sitting in our chairs participants were asked to make the time on the clock with our arms.  Three o'clock is straightforward, twenty to seven requires some thought! Following the warm up we played a series of memory games on the iPads provided. An instructor led all the games and the class was fun and very sociable.  On speaking with participants at the end of the session, the main reasons given for attending were to meet other people as well as exercising the brain. While attendees were learning digital skills, it did not seem to be the primary motivation for attending. 
In both Australia and Japan, a key motivation for learning to use the Internet was for communication purposes, in particular for staying in touch with family and friends. In Uji in Japan, I sat in on a session delivered by accredited Senior Information Life Advisers and on speaking with participants, their motivation for learning new digital skills was clearly driven by social contact. One man who was 90 years old was designing and creating invitations to send out to his peers inviting them to a school class reunion. Another man in his nineties was determined to learn new skills so that he could stay in contact with his granddaughter who was a ballet dancer in London. He was also keen to keep up-to-date with her career by reading online newspapers.
Again in Japan, I met Mrs Masako Wakamiya, who, aged 82, is believed to be the oldest app developer in the world. She created a game which can be downloaded on iTunes. Last year she was invited to the Apple Inc. worldwide developer's conference.  When I asked Mrs Wakamiya what had motivated her to develop such an app she told me that when she retired from banking she developed an interest in digital technology and couldn't find a game that was of interest to her or her peers so she developed one herself. She then asked me what gaming apps were available to eighty year olds in Northern Ireland and I had to admit that I didn't think there were any.
Queensland Seniors Week in Brisbane provided opportunities for motivation by offering a raft of different events, many of them offering introductions to technology from shopping to viewing and listening online.  People were encouraged to try something new. I went to a session delivered by Brisbane Seniors Online, Smart Technology Q&A, where seniors asked tech questions and shared their knowledge. There was much discussion about government services becoming digital by default and resentment at being 'forced' to go online in order to access services and savings. I was also motivated to go to a session on Streaming for Seniors at Kawana Library, where I learned how to use My Tuner App to stream international radio, my motivation being to learn how to listen to radio stations from home while I was travelling.
In Takarazuka, Japan, the NPO International Information Science Association (IISA) runs classes and seminars for older people to promote the benefits of engaging with IT.  In addition, a group of older people are developing a Handyman app which essentially is a Tech for Good project. The Handyman app is a database matching requests for help and support to those older people who could provide it for a small fee. Their motivation was to create an income for older people by sharing their expertise.